Livestock scales / Cattle Scale / inexpensive animal scales
AGRETO animal scales are characterized by robust and accurate working technique. Load cells and weighing indicators are waterproof and stable climate fit, thus guaranteeing a long life under tough conditions in the barn or outdoors. Metal parts are stainless steel or galvanized steel. The weighing indicators of our cattle scales have a special animal weighing mode, which displays a stable weight even with restless animals. Whether as a pig scales, calf or sheep weighing scale - with an animal scale AGRETO you decide for one of the highest quality scales on the market.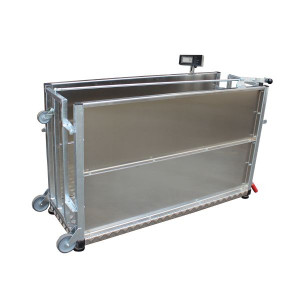 € 2.700,00 incl. 20 % VAT, Free shipping to Germany and Austria!
Inexpensive single animal scale for weighing hogs/pigs, calves and sheep • Inner dimensions 150 x 48 x 85 cm (l-w-h) •Thanks to large rubber wheels and folding handles the scale can be moved like a wheelbarrow • The load cells are built in the frame atop the weighing platform and thus protected during transport and deployment on damp surfaces • The AGRETO livestock scale is ideal for use as a hog/pig scale, calve scale, sheep scale, etc.
to article